The founder's idea:
Considerably hard
Level 65
Level 65 board (Click to zoom)

Vital statistics

Prerequisites
Level 64 passed
Level
65
Location
Minty Meadow
Rewards
Finishes the episode
Blockers
Locked candies
Chocolate
Number of
spaces
65
Moves/
Time limit
40
Passing score
120000
Requirements
Clear 65 jelly squares; and
Score 120000 to pass the level
Difficulty claimed
by the founder
of this wiki
Considerably hard
Suggested
difficulty by
other users
Hard
Type
Jelly

Quest progression

Previous
Next
64
66

Included candies (Facebook version)
Level 65
is the fifteenth and last level in 
Minty Meadow
, the sixty-fifth level overall and the thirty-fourth 
Jelly level
. To pass this level, you must clear 65 
jelly
 squares and score at least 120,000 points in 40 moves or less. When you have extra moves left in this level, 
Sugar Crush
 will activate 
Jelly Fish
 to eat candies and score you additional points.
Upon finishing the episode, Tiffi brings out a trampoline. Then, Tiffi extracts a string of lollipops from a tree to the unicorn. This string later becomes the recovered horn of the unicorn.
Difficulty
Edit
Originally, this was the last level of Candy Crush Saga. It originally was excruciatingly difficult and the known bad-boy level. This level, at one time, was probably more notorious than Level 147 ever was. Many people actually deemed the level impossible and gave up here. When people spoke of hard levels, they only spoke of this level.
However, this level has gone through many nerfs, and although it has retained some of its former difficulty in removing some of the corner or top jellies, it is no harder than a slightly-on-the-hard-side level, and no longer stands out like it used to. This level, however, may still take a few tries, but it has been diluted to a 100th of its original difficulty.
Total: 38 double jelly squares and 27 regular jelly squares
Voting result
Edit
Most people voted "hard" in this level till 7th September 2013. Another update will be done in a month later. Vote here!
1 star: 120,000 points
2 stars: 220,000 points
3 stars: 310,000 points
Clear chocolate as quickly as possible. If it begins to take over, you will spend too many moves trying to clear chocolate. Remember that chocolate only generates when the previous move didn't clear any chocolate. Aim for clearing chocolate in every move. Concentrate on one side at a time. This makes it easier to plan ahead. Always look for striped candies and color bombs as they are crucial for passing the level. Line up the horizontal striped candies with the corner candies, so that it can help clear jelly there. If there are no combos available, look for vertical matches near the bottom of the board. This increases the chances of cascading matches.
Past Versions
Edit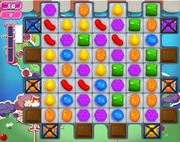 The original version has all 6 colors and also 50 moves instead of just 40 in the recent version. Also, the 5x5 part on the center have double jellies. However, the two of the bottom corners behind the chocolate have only single jellies.
Walkthrough iPad, no booster
Edit