The founder's idea:
Hard
Level 325
Level 325 board (Click to zoom)

Vital statistics

Prerequisites
Level 324 passed
Level
325
Location
Munchy Monolith
Rewards
Advance to the next level
Blockers
Chocolate
Licorice swirl
Chocolate Spawner
Marmalade
Number of
spaces
79
Moves/
Time limit
50
Passing score
120,000
Requirements
Bring down 6 cherries and 6 hazelnuts; and
Score 100000 to pass the level
Difficulty claimed
by the founder
of this wiki
Hard
Suggested
difficulty by
other users
Very hard
Type
Ingredient Drop

Quest progression

Previous
Next
324
326

Included candies (Facebook version)
Level 325 is the fifth level in Munchy Monolith. To pass this level you should bring down 6 cherries and 6 hazelnuts and aim for at least 120,000 points in 50 moves. It is the three hundred twenty-fifth level of Candy Crush Saga and the eightieth ingredient drop level of Candy Crush Saga. When you have extra moves in this level, Striped Candy will be automatically made and give you extra points.
Difficulty
Edit
This level can be extremely hard because you need to bring down 12 ingredients in 50 moves, but the ingredients drop 1 every 6 moves, unless you clear the board of ingredients.  If all the ingredients currently on the board have dropped off, it will drop another ingredient before the 6th move.  This is the only way it is possible to get all 10 ingredients onto the board before your moves are up.
This level apparently is nerfed and now has an Ingredient Dispenser in the middle. 
1 star: 120,000 points
2 stars: 140,000 points
3 stars: 160,000 points
Make as many combinations as possible but focus on bringing down each individual ingredient. You want to keep them dropping so clear the chocolate as quick as possible to free up the board.
Past Versions
Edit
As you can see there used to be a Licorice Dispenser in the middle. Instead it got replaced by an Ingredient Dispenser. 2 more ingredients have been added however.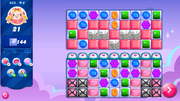 Walkthrough
Edit
http://www.youtube.com/watch?v=foy1S-JivFk
This level has been changed on the Facebook version. Instead of a row of licorice in the middle, it is just like the rest of the rows. The licorice has been removed from the level. You also now need to bring down 6 of each ingredient as opposed to 5.
This has NOT been changed on the IOS version.