The founder's idea:
Hard
Level 197
Level 197 board (Click to zoom)

Vital statistics

Prerequisites
Level 196 passed
Level
197
Location
Caramel Cove
Rewards
Advance to the next level
Blockers
Three-layer meringue
Marmalade
Number of
spaces
73
Moves/
Time limit
50
Passing score
80000
Requirements
Clear 36 jelly squares; and
Score 80000 to pass the level
Difficulty claimed
by the founder
of this wiki
Hard
Suggested
difficulty by
other users
Very hard
Type
Jelly

Quest progression

Previous
Next
196
198

Included candies (Facebook version)
Level 197 is the twelfth level in Caramel Cove. To pass this level, you should clear 36 jelly squares and aim for at least 80,000 points in 50 moves. It is the one hundred ninety-seventh level of Candy Crush Saga and the eighty-sixth jelly level of Candy Crush Saga. When you have extra moves left in this level, Jelly Fish will help you eat candies and give you extra points.
Difficulty
Edit
You'll face tons of meringues in the bottom of board.
The board is divided to 2 pieces, making it even harder.
1 star: 80,000 points
2 stars: 120,000 points
3 stars: 150,000 points
Focus on getting vertically-stripped candies to break the marmalades guarding the wrapped candies on the first few moves. Then, just combine the two wrapped candies. This should open up new candies to the bottom part and possibly trigger a chain reaction to the other side (if you combine them near the center).
Crushing the Meringues are your top priority, as less meringues means more candies on the bottom side. While crushing the meringues and jellies, don't forget to look up for color bombs, and if possible, combine it with stripped candies!
While clearing the bottom jellies, don't forget to be mindful of the matches available. If possible, try to avoid making a match that would give no moves at the bottom, or else it will be very difficult to free them up again.
Past version
Edit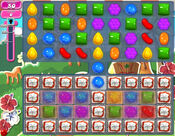 All the meringues in the old version had 4 layers instead of 3.
Walkthrough
Edit