The founder's idea:
Hard
Level 165
Level 165 board (Click to zoom)

Vital statistics

Prerequisites
Level 164 passed
Level
165
Location
Pastille Pyramid
Rewards
Advance to the next level
Blockers
Chocolate
Candy bomb (7 moves)
Chocolate Spawner
Number of
spaces
64
Moves/
Time limit
60
Passing score
50000
Requirements
Collect 99 blue candies, 49 yellow candies and 24 green candies; and
Score 50000 to pass the level
Difficulty claimed
by the founder
of this wiki
Hard
Suggested
difficulty by
other users
Very hard
Type
Candy Order

Quest progression

Previous
Next
164
166

Included candies (Facebook version)
Level 165 is the tenth level in Pastille Pyramid. To pass this level, you should collect 99 blue candies, 49 yellow candies and 24 green candies and aim for at least 50,000 points in 60 moves. It is the one hundred sixty-fifth level of Candy Crush Saga and the eighteenth candy order level of Candy Crush Saga. When you have extra moves left in this level, Striped Candy will be automatically made and give you extra points.
Difficulty
This level has so many difficulties at once:
You'll face all colors, so you feel you don't have enough blues to collect.
Chocolate fountains make life much harder, because they can obstruct the flow of the candies on the left and right of the board.
There are many 7-move candy bombs that drop down every 5 moves in this level, and dispatching them in 7 moves is no easy task when the board shape is awkward and also six colors on the board.
Stars
1 star: 50,000 points
2 stars: 80,000 points
3 stars: 120,000 points
Strategy
The bomb dropping pattern is predictable, so try to avoid matching candies at the sides on every 5th move. Whenever on drops down, it is best to remove it quickly. Never forget to remove the bombs - keep an eye on them and make sure they are defusable.
Aside from bombs, chocolate can be annoying. If there is a crucial move that might be eaten by chocolate, try to match that first. It might help to avoid chocolate clogging the top if possible. Make vertical matches more often, since doing that increases the chance of combo cascades.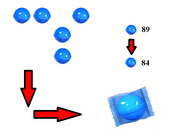 Collecting 99 blue candies is really hard due to having 6 colours and medium space. Therefore, it is wise to grasp any chances for making a special candy, especially wrapped candies and colour bombs, as they are pretty hard to come by. To boost the progress of collect the blues, create special candies from the blue colours.
Walkthrough