The founder's idea:
Medium
Level 137
Level 137 board (Click to zoom)

Vital statistics

Prerequisites
Level 136 passed
Level
137
Location
Wafer Wharf
Rewards
Advance to the next level
Blockers
Licorice swirl
Number of
spaces
48
Moves/
Time limit
18
Passing score
20000
Requirements
Bring down 1 cherry and 1 hazelnut; and
Score 20000 to pass the level
Difficulty claimed
by the founder
of this wiki
Medium
Suggested
difficulty by
other users
Medium
Type
Ingredient Drop

Quest progression

Previous
Next
136
138

Included candies (Facebook version)
Level 137 is the twelfth level in Wafer Wharf. To pass this level, you should bring down 1 cherry and 1 hazelnut and aim for at least 20,000 points in 18 moves. It is the one hundred thirty-seventh level of Candy Crush Saga and the thirty-eighth ingredient drop level of Candy Crush Saga. When you have extra moves in this level, Striped Candies will be automatically made and give you extra points.
Difficulty
Edit
This level is said to be the most confusing. With almost 10 pairs of teleporters on the screen, many players will be thrown and will play randomly and hope for the best. There are also many channels where the ingredients can become stuck, and after that, it's pretty much game over. Also, with only 18 moves, it can be hard to get both ingredients through all the channels to the end, especially the last channel. The only thing that makes the level easier is the presence of only 4 colors in this level.
1 star: 20,000 points
2 stars: 30,000 points
3 stars: 40,000 points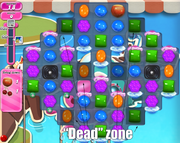 Never make any striped candies as this may let the ingredient to fall into the "dead" zone. If any of the ingredients falls into the "dead" zone, quit instantly as you have almost no chance in getting the candy back to the middle lane.
Try doing only normal switches in this level. It is not recommended to make wrapped candies, and if any were made, detonate them when the ingredient is far away from it. It is suggested to combine candies far away from the ingredient as it prevents the ingredient from falling into "dead" zone.
Also, measure carefully if any cascades in the dead zone may happen prior to a move used, as clearing candies in the dead zone will let the candy above to fall into the area.
Walkthrough
Edit