Biscuit Bungalow is the 39th episode of Candy Crush Saga and the third episode of World Seven. This episode was released on April 14, 2014. The champion title for this episode is Bubblegum Buster.
Due to a great number of levels which are hard to pass, it is available to be voted as the hardest episode in the game.
Before episode:
A Bubblegum Monster blows up his giant bubblegum that blocks Mr. Piggy's way back to his bungalow.
After episode:
Tiffi gets out of the screen then rides onto the Unicorn of Minty Meadow. The unicorn jumps and pops the bubble with her horn.
New things
Edit
There is technically no new element. However, in this episode, conveyor belts have corners for the first time, so that candies could turn to the other side during the game. Conveyor belts have corners in every level in this episode except for levels 568, 569, 571, and 572. This could be considered as a new addition, though no actual new elements were added at this point as the conveyor belts that have corners are still just conveyor belts.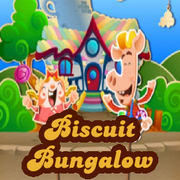 This episode contains levels 561-575.
Biscuit Bungalow continues the trend of having conveyor belts in all 15 levels, having a normal amount of jelly and ingredients levels, having a low number of candy order levels, having no new things, not even toffee tornadoes, liquorice locks, nor cake bombs and chameleon candies, too. They can only be found inside some of the mystery candies.
This is the hardest episode in World Seven. It has four somewhat hard-hard levels: 568, 570, 571, and 575, three very hard levels: 565, 567, and 573, and one insanely hard level: 566. Yet, there are five easy levels: 563, 564, 569, 572, and 574. As a result, this is a very hard episode. This episode is much more difficult than the previous episode, Jelly Wagon.
 Difficulty coding
Very easy • Easy • Somewhat easy • Medium • Somewhat hard • Hard • Very hard • Insanely hard • Variable
 Note that goals include target score.
Level
Type
Moves
Target score
Goal
Walkthrough
Remarks
561
40
100,000
: 40

04:52

Candy Crush Saga Level 561

562
45
100,000
: 36

05:02

Candy Crush Saga, Level 562, 3 Stars, No Cheats, No Boosters

Very similar to 549.
563
25
100,000
: 5   : 5

03:06

Candy Crush Saga Level 563

564
35
90,000
: 42

03:46

Candy Crush Saga Level 564

565
40
300,000
: 79

03:31

Candy Crush Saga Level 565

566
30
50,000
: 20   : 10   : 5

03:46

Candy Crush Saga Level 566

567
30
200,000
: 67

02:36

Candy Crush Saga Level 567

568
35
50,000
: 1   : 1

02:58

Candy Crush Saga Level 568

569
35
70,000
: 3   : 3

03:50

Candy Crush Saga Level 569

570
30
50,000
: 4

01:34

Candy Crush Saga Level 570

571
35
40,000
: 2   : 2

02:53

Candy Crush Saga Level 571

572
30
20,000
: 90

02:45

Candy Crush Saga Level 572

573
30
150,000
: 66

03:22

Candy Crush Saga Level 573

574
33
100,000
: 4   : 4

02:29

Candy Crush Saga Level 574

575
35
150,000
: 50

03:18

Candy Crush Saga Level 575