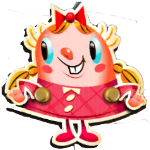 There are multiple characters you'll meet through the progression of the game. The following are the major, recurring characters.
Tiffi, short for Toffette, is the main character of the game. She's the blonde squat girl with pigtails. She is introduced in the first area Candy Town. She will be joyful if you pass a level, and if you get 3 stars for a level, she will be very happy. But she will cry if you fail a level. 
Mr. Toffee
Edit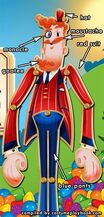 Mr. Toffee helps out along the way. He's the man who will tell you to do a level type. He walks the player through the tutorial in the beginning of the game, and introduces each level. He also gives a powerup tip when the player is seemingly having trouble with the level by suggesting boosters. This happens when the player is left with his/her last life. You also encounter him in the Candy Town.
The Yeti runs the Yeti Shop, where you can purchase gifts and charms. You also encounter him in the Chocolate Mountains, where he has trouble waking up.
Easter Bunny
Edit

Tiffi encounters him in level 66, he gets stuck in the chocolate. He also introduces the Objective Levels.
Bubblegum Troll
Edit
Tiffi encounters him in Bubblegum Bridge who wants candy, Sweet Surprise as he came out from the cake as a surprise, Pudding Pagoda who is trying to wreck the pudding pagoda and Butterscoth Boulders when he blocks the train's way in chocolate.  In levels that contain at least one chocolate fountain, you can use him as a booster to destroy all the chocolate and shut off the fountains for five moves. He will most likely be returning for future episodes.