Bubblegum Troll
Comments

17
2,796pages on
this wiki
              This page is about the booster. For the character, see Bubblegum Troll (character).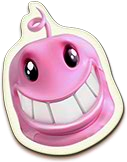 Bubblegum Troll is a booster in Candy Crush Saga, only in the Facebook version that debuts in Level 156. When used, all the chocolate is blown away and it covers the chocolate spawners in bubblegum, preventing chocolate from spawning for 5 moves. This is only usable in levels with chocolate spawners. Its appearance is a bubblegum monster.
Description
Edit
Old description: Unleash the Bubblegum Troll to remove all the chocolate and put a stop to the evil chocolate spawners!
Current description: Removes all chocolate and stop the chocolate spawners for 5 moves. Use now!
This is one of these boosters that you can't get from the daily booster wheel.
This booster is also a reference to a character in Bubblegum Bridge, the Bubblegum Troll.
Sometimes, the game will offer this booster to you, even if you are stuck on a level where there's no way to get a chocolate spawner.
This is the last booster you can unlock.