Daily Booster Wheel
Comments

256
2,278pages on
this wiki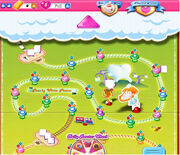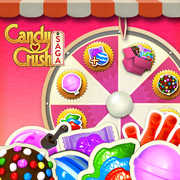 Daily Booster Wheel
 is a feature in
Candy Crush Saga
released on November 27, 2013 upon the release of
Dreamworld
. This icon is located on the bottom middle of the screen, or in the case of the mobile version, top left of the screen. When a player clicks it, the wheel will automatically spin. The player can press the 'Stop Wheel' button at any time, causing the wheel to slow down and eventually come to a halt. When the wheel fully stops, whichever booster the wheel lands on, the player will receive one of. The Daily Booster Wheel is available once a day.
On iOS and Android: the player must be connected to the Internet to spin the wheel.
As of August 2014, the Daily Booster Wheel requires a Facebook connection. Without a Facebook connection, players are no longer able to obtain boosters without paying for them. However, some mobile players may still suffer a glitch that won't return the booster wheel but restart your process to level 1.
Rewards List
Jackpot
Of course, there is a low chance of landing the jackpot. If a player lands on the jackpot, he/she will be rewarded with 3 of each reward from the Rewards List.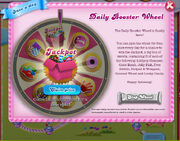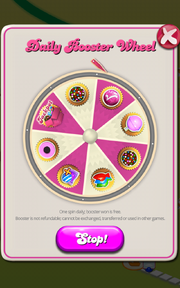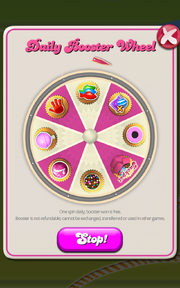 Trivia